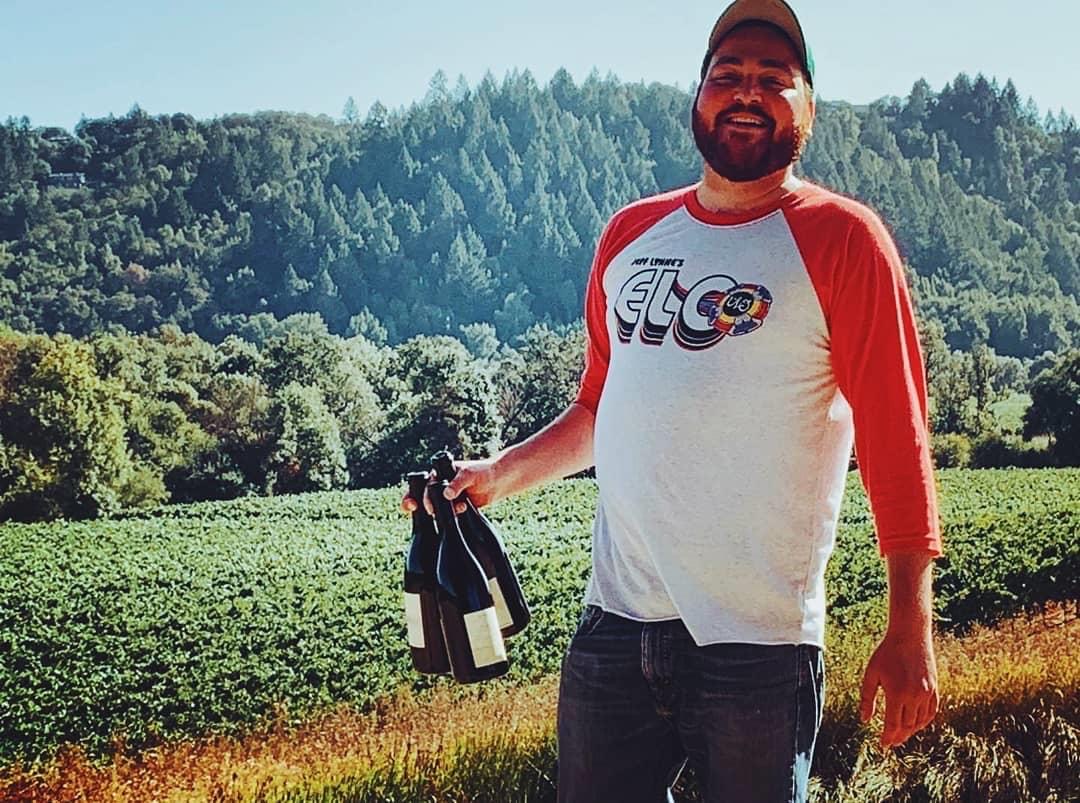 It is with great sorrow that we announce the passing of our partner and brother, Martin McCormick. As shocked and saddened as we are during this time, we're committed to honoring his life by cherishing the amazing memories he has given us all.
Because he loved Vo-kel very much we ask that on your next glass please toast Marty, as we know that nothing would make him happier! If there are any memories of Marty you would like to share we would love to hear them as well!
We love and will miss you brother
A collection of messages from those that had the pleasure of meeting Marty.
"Marty was full of life and you could tell that he loved everything about Vokel. It wasn't a job. It was his love. He commented almost immediately that he had received a call from Liam stressing to behave himself and to try to not swear. "Well," Marty said, "that is not going to …." Well, let's just say he didn't follow his instructions. We all erupted with laughter. As he talked about the wine and the history of the brand, I felt an almost immediate closeness to him. His genuineness and true quality of his character came through effortlessly as he spoke, something you don't see every day. His knowledge of wine was impressive but so was his ability to toss in an unrelated story or hilarious quip. The time flew by and we didn't want it to stop. When the tasting came to an end, I immediately signed up to be a wine club member, partly because of the wine but I would honestly say more so because of Marty. My brother is in sales and says people often buy on emotion and then justify the purchase with reason / facts after. Looking back, that's exactly what happened. I loved the person Marty was and wanted to support him.
We ended the tasting by taking what is without a doubt the best picture we have ever taken in wine country. We picked up Marty and all held him horizontally and sent the photo to Liam. His smile was beaming and he looked truly happy. This is how we will always remember you."
We've been doing wine tasting with Marty for over five years. We followed him to different wineries over the years not just because he was so entertaining and knowledgeable, but because he was a part of our family. He always knew what we would like and we would share with each other childhood stories, our goals and aspirations. We watched Marty grow so much in such a short amount of time.
We were his first wine club membership sign up when he started working at Christopher Creek. It was so easy to talk to Marty and he made the tasting so relaxing and fun. We continued to go back to CC just to talk with Marty and share wine together. Marty celebrated my wife's birthday at our house and everyone loved him. Even my 6 month old daughter loved being held by him. He was such a calming soul and authentic.
We were so happy for him when he told us he was going to make his own label with Liam and Dana. He was always so enthusiastic every time we visited him.
Every chance we got to go up to the wine country, we wanted to meet Marty. Not just for tasting or entertainment, but to catch up with a good friend.
He was a part of our family and we will miss him greatly.
Marty was such a bright star. He truly did shine more brightly, always the center of love and energy in any room. I had the joy to watch him grow up alongside my daughter all these years. He was her dear friend at St.Eugene's. He was her cheer companion at CN. He welcomed her to San Diego when she knew no one, by inviting her onto his softball team. He was just a constant star, but as in the universe, some stars are meant to shine more brightly, but not for as long. I take so much comfort in knowing that Deirdre has her darling Marty with her now. I take so much comfort in knowing that the Blessed Virgin Mary and Jesus will be beside this loving family every step of the long way. God bless you all and ease your pain. Luvs, Marty. Forever, Luvs.
He is not lost our dearest love,
Nor has he travelled far,
Just stepped inside home
loveliest room
And left the door ajar……
Slan go Foill
Marty, Patty and Children
We send you our love and prayers from one of your favourite places, Ireland
Collette, Michael, Sitric and Torben
I just wanted let you know that I am truly sorry for the loss of your beautiful son. Martin was a great person and a good friend. I feel privileged to be apart of his life. I know I have not been around much, but at least I got to see him one last time! With a heavy heart, the McCormick family will be in my prayers. From my family to yours, we love you.
With our sincerest blessings, prayers and love.
McCormick family, we send our love, strength, and peace to you all. We are so very sorry for all you are going through. Hold on tight to one another. We wish we were there with hugs but we are there in spirit. Much love, Cindy & Steven Maresca.
Lean on each other, family and friends and find comfort and love.
May god be with you forever.
Marty lit up the morning at JC pool when he practiced with CN swim team. Christina and I enjoyed seeing him and his boisterous friendly good mornings as he exited the pool right before we got in as we shared the love of the water and swimming as our exercise. We will miss Marty. God bless all of us as we mourn the loss of him. xoxo
Condolences to Liam, Dom, and families.
We are so sorry to hear of Marty's passing. Our prayers are with the entire family as you go through this unimaginable time of grief and sorrow. Martys soul is at Peace with the Lord as he begins his immortal and everlasting Life! God Bless his Soul!
About three months ago. Marty and I started texting each other about rock n roll stories. I'll cherish these exchanges forever.
May the love of friends and family carry you through your grief. I am so sorry for your loss of Marty.
My condolence to the family. I knew Marty when I worked at Cardinal Newman in the cafeteria. He always had a smile on his face. He was a great young man. When he came in he always had a joke to tell or something to say. I always looked for to seeing him & the other kids that went there.
May god be close to you now, for strength and comfort- and may his peace overflow in the days to come. With deepest sympathy.
May God bless and comfort you and your family in this time of sorrow.